Rakesh - Architecte AMAZON AWS
Ref : 200128M001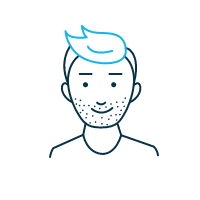 Compétences
Expériences professionnelles
Employment History:
Airbus Helicopters, Marginane June '2018 – Current
Freelance Solution Architect on Skywise Platform

I have worked with Airbus Helicopters to provide Big Data and Platform expertise since June'18 as a freelance. I have been working as a main Solution Architect for Airbus Helicopters on their Big Data Platform called Skywise. I worked on several projects where Airbus Helicopters is looking to consolidate old database / server state into a big data platform provided by Palantir. I have architected, designed and supported mission critical systems like manufacturing, customer services and maintenance. It gives me opportunity to use my skills efficiently in all areas. I also help other team members to train on new technologies, services and systems. I have working knowledge of Big Data technologies such as HortonWorks and NoSQL databases. I worked on projects from initiation, define and implementation. This involved following company policies and standards for implementing. I have implemented highly available databases in Cloud. I have been complimented on several occasions that amount detail I go into while documenting for the projects. The documentation involves working on MS Visio diagrams, High Level Design / ARD, Low Level Design, operation handover documents. I always look into simplify the complexity as much as possible whether it's a document, technical or process.

Employment History:
T-Systems, Bristol March '2013 – April'2018
Freelance Big Data Architect

I have worked with T-Systems to provide Big Database and Platform expertise since April'13 for their client BT(British Telecom). I worked on several projects where BT is looking to consolidate old server state into virtualized environment. I have architected, designed and supported missing critical systems like billing, payment and retail.

T-Systems Ltd, Bristol July. '11 – March'13
Solution Architect

I worked with T-systems as Principle Database Analyst to support, design and build databases on several different technologies. I provided trainings and guidance to other members of database and platform teams.

Everything Everywhere Ltd, Bristol Nov.'2007 – July'2011
Senior Database Analyst
I was a senior member in a team of 12 administrators responsible from more than 1000+ servers in 4 datacenters running different Database(Oracle,MSSQL,MySQL) and Linux/UNIX flavors sites across UK. We supported revenue generating mission critical server environments on a 24/7 basis. We assist a large user base working alongside various application support teams based both on site and offshore.

Orange PCS Ltd Apr.'2004 – Nov.'2007
UNIX Support Analyst
Day to Day Unix system administration role of supporting. Planning, conditioning and documenting disaster recovery (DR) tests. Work with ITIL organizations within company to resolve issues. Proactive work to fix re-occurring problems on Linux/Unix systems. Perform security audits, server hardening and contribute to security baselines.

Orange PCS Ltd Aug.'2001 – Apr.'2004
Firewall Analyst
This role was to create/amend/delete rules on checkpoint firewalls which were installed on Solaris. I also worked in firewall team to resolve and improve existing security policies and documents.

DSQ Software Ltd, Delhi July'2000 – Aug.'2001
Systems Administrator Client: Cisco Systems Ltd, Glasgow
I was system administration at DSQ software to provide UNIX support to their software development offices across India and Abroad. This job involved setting up and maintaining patches on Jumpstart/Boot servers for OS installation of new Sun hardware as per requirement, on different subnets.

Chipsoft Techonology & CMS Computers Ltd., Delhi Aug.'1996 – June'2000
Systems Administrator Client: Samtel India, Bhiwadi
I was a customer engineer responsible for hardware,OS maintenance and system administration at various client locations. In this job I was system administrator at one of the client which had wide range of technologies like Novell Netware, Windows 3.1, SCO-UNIX, Solaris.



Études et formations
Skills Set:
Emerging Technologies BlockChain, AI & Machine Learning, IoT, Digital Mobile Platforms
Operating System Red Hat Enterprise Linux, CentOS, HP-UX, Solaris, Ubuntu
IAAS/PAAS AWS, GCP, Azure, Openstack, OpenShift, Open Telecom Cloud (T-Systems)
Database Oracle, Netezza, MSSQL, PostgreSQL, ElasticSearch, Cassandra(NoSQL), HortonWorks (Hadoop), Palantir Foundry
Virtualization VMware ESXi, LPAR, KVM,QEMU
Automation BMC Bladelogic, Ansible, Puppet, RHEL Satellite, Jenkins
Networking TCP/IP, DNS, NFS, NIS, Samba, LDAP, SSL, SAML
High Availability Docker, Container, Kubernetes, Amazon ECS(AWS), Google Cloud Platform (GCP), Azure
Storage CEPH, SAN, NAS, LVM
Tools JIRA, Confluence, HP Service Manager, BMC Remedy, GIT
Monitoring Nagios, HP PV, AppDynamics, check-mk, Splunk
Programming Python, PHP , Spark/Scala, Shell Scripting

Accreditations:
TOGAF Certified Solutions Architect
Amazon AWS Certified Cloud Solutions Architect
Google Cloud Platform Trainings
Microsoft Azure Solution Architect
IBM Certified Netezza / Puredata Specialist (Big Data)
Oracle Certified Professional on DBA
Redhat Certified
Sun Certified Solaris Administrator
ITIL Certified Professional

Qualifications:
Computer Engineering from C.R. Engineering University, Rohtak, India in 1996

D'autres freelances

Architecte AMAZON AWS
Ces profils pourraient vous intéresser !
Architecte d'entreprise TOGAF - Architecte solutions
Disponible
DevOps AZURE/AWS
Architecte Cloud & DevOps & Cyber Security
Ingénieur de développement JAVA NodeJs
Architecte Technique et Applicatif
Architecte Logiciel, Ingénieur Backend, Chef de projet
Architecte solutions
Disponible
Architecte IT, Gouvernance et performances
Data Intégration/Architecte - Intégrateur Technico-fonctionnel IVALUA - Certifié AWS Machine Learning
Architect AWS et DevOps