Philippe - Architecte ENTERPRISE ARCHITECT
Ref : 200929G003
Totalement mobile

Bientôt freelance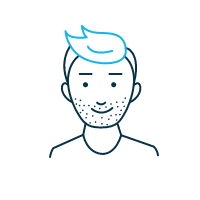 Compétences
IBM RATIONAL SYSTEM ARCHITECT
Expériences professionnelles
Experience

Eurois – Business development, consulting and research
Solutions architect / IT consultant
09/2019 – present • End-to-end architecture design for a financial data analysis application.
• Business process re-engineering and data modelling for a legal office.
• Customisation of a time-driven multi-criteria optimisation algorithm.
• Preparing financial and business documentation for an IT startup.
• Contribution to research project using hybrid survival analysis.

BNP Paribas – Corporate and investment banking (CIB)
Enterprise architect
01/2017 – 09/2019 • Design and/or maintenance of 100+ cartographies, diagrams and specifications.
• Rationalisation and governance of the CIB enterprise architecture repository.
• Review and assessment of 50+ IT solutions for the Architecture committee.
• Design of the application portfolio management system (1.5K/7K+ assets).
• Support for 10+ UK-based software project teams (Global markets, ALM).
• Sharing expertise in application architecture and data-related topics.
• Cross-entity reporting on the IT solutions' outcome and KPIs.

BNP Paribas – Retail development and innovation (RD&I)
Information systems architect
01/2015 – 01/2017 • Design of the data architecture for the new retail banking information system.
• Contribution to development of the new IT strategy for the core EU markets.
• Prototyping new software tools to improve online customer experience.
• Coordination of data management tasks across the retail banking scope.
• Implementation of new project management methods (Agile, DevOps).

BNP Paribas – Multichannel international banking (MIB)
Systems analyst / Software engineer
01/2014 – 01/2015 • Interoperability management of 20+ BNL (Italy) applications and databases.
• Integration of 8 local data models into the consolidated data model.
• Optimisation of inter-application software interfaces (50 elements).
04/2013 – 01/2014 • Interoperability management of 5 BNPP Fortis (Belgium) applications.
• Elaboration of the software components' integration strategy.
• Analysis and standardisation of 30 heterogeneous data flows.
04/2012 – 04/2013 • Banking information system data model design and master data management.
• Implementation of 30+ web services for inter-system data exchange.
• Development of communication tools (shared knowledge base).



Études et formations
Education

09/2019 – 09/2020 Master's degree (innovation economics)
Télécom Paris and Université Paris-Saclay (France)
09/2010 – 09/2012 Diplôme d'ingénieur (computer science)
INSA Lyon – National institute of applied sciences of Lyon (France)
French Government Excellence Scholarship (2010)
09/2005 – 06/2010 Master's degree (applied mathematics)
State university of management (Moscow, Russia)

Skills

• Enterprise architecture and governance: TOGAF, ITIL, DDD
• Software architecture design: UML/USDP, MDE/MDA
• Information systems modelling: IDEFx, SADT, BPM
• IT project management: PRINCE2, PMBOK, Agile, Scrum
• Software engineering: Python (Flask, PyQt), R, PHP, C/C++
• Data processing: XML/XSL(T), RDF(S), OWL, SQL, SPARQL, DHTML, LaTeX
• Statistics and econometrics: complex regressions, forecasting methods, survival analysis
• Finance and banking: valuation techniques, adaptive modelling, financial engineering (basics)

Tools
• Information systems design software: Abacus, Rational System Architect (RSA), Archimate
• Data analysis platforms: Rational Software Architect (RSwA), R Studio, KNIME
• Databases management systems: MySQL (MariaDB), SQLite, DBeaver, Protégé
• Integrated development environments: PyCharm, Eclipse, Qt Creator
• Operating systems: Linux (openSUSE, Debian), basic bash scripting

Certificates
• ITIL Foundation (2019)
• PRINCE2 Practitioner (2018)
• ISO 27005 Risk Manager (2018)
• Corporate finance – ESCP Europe (2019)
• Autorité des marchés financiers – AMF (2019)

Research
• Evolution of data mining methods and approaches in the financial sector (2015)
• Application of grid computing in the complex distributed calculation tasks (2011)

Languages
• French and Russian – native or bilingual proficiency
• English – excellent verbal and writing skills (CAE C1)
• Italian – excellent writing and intermediate verbal skills (CILS C1)
D'autres freelances

Architecte ENTERPRISE ARCHITECT
Ces profils pourraient vous intéresser !
Directeur-chef de projet, Maitrise d'ouvrage, Evolution et optimisation de processus
Disponible
Architecte solutions cloud
Bientôt disponible
Chef de projet SALESFORCE
Chef de projet digital, Architect, MOA
Architecte ENTERPRISE ARCHITECT
Architecte Kubernetes | Expert Cloud | Développeur Java EE
Disponible
Architecte fonctionnel
Disponible
Architecte JAVA
Engineering Management
Architecte ENTERPRISE ARCHITECT