Mohamed - Chef de projet MOA
Ref : 200523A003
Totalement mobile

Mandataire social de sa structure Freelance (SARL, SAS, EURL, etc)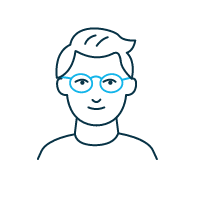 Compétences
Expériences professionnelles
Experiences
Société Générale (2018-Current)
Position : Project Portfolio Manager for GTPS (Global Transactions and Payment Services) including Correspondent banking, Trade Finance and Corporate Cash Management business lines.
Impacted perimeter +2000 FTE
Main achievements :
Change management supporting the integration of GTPS in the WholeSale
Project lifecycle governance set up
Projects financial steering
Strategic programs follow up
Monthly portfolio sponsor reviews
Assistance for Business cases elaboration
Implementation of the OKR (Objectives Key Results)

BNP Paribas Groupe (2015-2017)
Position: Project portfolio Manager: Following BNP Paribas signature of the Cease and Desist order issued by US and French Authorities (June 2014), the Group launched wide-ranging remediation initiatives including 40 programs. I worked in one of these programs aiming to secure USD payments worldwide by implementing an updated financial security control framework. My role was to lead a set of projects with Group entities and business lines: 30 FTE in indirect management and over 40,000 FTE impacted.
Main Achievements: Design and set up of the projects roadmaps validated by Executive Committees and US regulators.

BNP Paribas Banque de Finance et d'Investissement (2013-2015)
Position: Coordination of the transformation project to put an IT project back on track (In-house IT tool to support Corporate credit process for Corporate Banking): 2 FTE in direct management, 20 in indirect management and over ~2000 FTE and 43 countries impacted.
Main Achievements: Project transformation and recovery, elaboration of the new roadmap, steering of the new project.

BNP Paribas Fonction IT Groupe (2011-2013)
Position: Program Manager for Group initiative to assess and evaluate digital working practices in order to propose standards and approach to the Group. Management of the implementation of collaborative tools on cross-border perimeter as a pilot (France, Belgium and Italy) and set up of an RFP (Request For Proposal) process to select the providers. 1 FTE in direct management and 30 FTE in indirect management and over ~7000 FTE impacted.
Main Achievements: Adoption of the roadmap and the digital working tools proposed in the "Comité Grand Projets" chaired by the Group CEO.

BNP Paribas Wealth Management (2009-2011)
Position: Manager for the Business program aiming to review and optimise the setup of international branches. Implementation of the selected target solutions (Sale, Joint-venture, site closure) - Bahamas, Panama, Greece and Portugal. 2 FTEs in direct management, 30+ in indirect management and over ~200 FTE impacted.
Main Achievements: Design of the restructuring projects methodology. Regulatory, HR, legal and tax aspects management. Unions file preparation. Assets transfer and operational Closing management.

BNP Paribas Wealth Management (2007-2009)
Position: Program Manager for the Implementation of WM IT hub in Singapore aiming to Centralise the WM IT support & services initially located in 4 sites (Geneva, Paris, Luxembourg and Singapore) in one site based in Singapore.
Main Achievements: Conducting the preliminary study and proposition of the scenarios to the Executive Committee. Design of the transition strategy. Preparation of the presentation file to "employees' representative organisation". Management of the transition phase. Management: direct: 2 FTE; indirect: 200+ ETP.

BNP Paribas Wealth Management (2005-2006)
Position: Management of the transformation project of London WM branch: Improvement and update of the controls and systems to comply with the requirements of FCA (UK Financial Conduct Authority).
2 FTE in direct management, over 20 in indirect management and over ~100 FTE impacted.
Main Achievements: Upgrade of systems and organisation of WM in London (Front & Middle Office, Ethics and Compliance, Internal Audit and IT Systems). Implementation of Anti-Fraud controls measures. Coordination of the litigation process with insurance company and the FCA's audits ("Enforcement procedure" et "Section 166").

BNP Paribas Wealth Management (2002-2005)
Position: Project manager: deployment of the business, compliance and operations procedures in 15 sites following the merge of BNP and Paribas and the standardisation of operating model among the branches.

CAP'Info (4ans, 1998-2002)
Position: Engineering Department Manager, Management of the activity, A team of 30 staff; organisation set-up, activity and staffing monitoring, training program, end of year appraisal. Management and delivery of fixed price IT projects.
Main Achievements: Y2K compliance for Moroccan customs Administration. Leasing solution deployment for Chaabi Leasing.

BMCE Bank (4ans, 1994-1998)
Position: Software project manager Implementation (in house) managing Securities operations front to back with interfaces with the market and the custodians. 3 FTE in direct management and over 2300 ETP impacted.


Études et formations
Core competencies
Projects & Programs steering with multiple challenges:
Business, regulatory and operations and IT aspects
Project planning and follow up with KPI
Reporting to the general management committees and contribution to strategic decision making
Management of Project teams :
Business, IT, External providers, Off shore teams
Negotiation
Annual appraisal
Elaboration of organisational strategy in link with:
Executive Committees
Regulators
Strategic studies and analysis

Education and Languages
Executive Master "Practice and Principles of Islamic Finance" at Paris – Dauphine university (2016/2017)
Engineering degree, INSA (Institut National des Sciences Appliquées de Rouen) France – 1994
Post-graduate degree in Mathematics, INSA de Rouen – 1994
English: Fluent (C2); French: Fluent (C2) ; Arabic: Fluent (C2) ; Berber: mother tongue

D'autres freelances

Chef de projet MOA
Ces profils pourraient vous intéresser !
Chef de projet IT
Disponible
Chef de projet AMOA
Bientôt disponible
Ingénieur Télécom / Chefferie de projets télécoms
Bientôt disponible
Business Analyst
Disponible
CHEF DE PROJET / AMOA SIRH
Disponible
Consultant GENESYS
Bientôt disponible
Chef de projet CFO CFA
Disponible
Directeur de projet Manufacturing & Supply Chain
Disponible
Chef de projet MOA
Disponible
Chef de projet / Consultant AMOA WMS et TMS
Bientôt disponible