Pascal - Directeur de projet PRINCE II
Ref : 200907J001
Télétravail si le client est à plus de 2h de son domicile

Bientôt freelance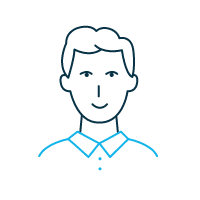 Compétences
Expériences professionnelles
Experience

Freelance Information Technology Consultant
July 2019 - Present
Paris Area, France
Missions:
- American Hospital of Paris (AHP): Development of a Patient Portal that
supports a patient to find its specialist, book an appointment, download
administrative documents and provide 360° view (agenda, history, medical
documents, imaging results...).
Development based on PEGA framework.

Sanofi - IT Corporate
IS Business Partner Global Trade and Revenue Management
April 2018 - June 2019
Paris Area, France
Accountable to drive Business value from an Information Technology and
Solutions (ITS) standpoint. Primary point of contact for Trade and Revenue
Management team within ITS and vice-versa.
Building on strong business relationships, aligned with ITS strategy, develop
Business ITS strategies enabling Business goals and then ensure operational
excellence in the implementation. Make sure that IT services and support
activities match Business needs and priorities.
Portfolio encompasses eCommerce, Revenue Management, Tender
Management, Trade performance ...

Business Solutions Manager - Patient Relationship Management
July 2016 - March 2018
Paris Area, France
Head of a global platform of services for Patients and Healthcare professionals
that is supporting the Integrated-Care strategy:
- place the patient at the center of every decision
- offers personalized interactions
- makes it possible to create healthier results.
- provides the best possible healthcare experience for patients
- empower the patient to better manage his disease
Portfolio of services: Education, Call Centers (medical information, patient
support), Home treatment, SMS treatment reminders..)
Highlights:
- Platform built from scratch (on premise, high availability, Patient data hosting
according to Healthcare regulations)
- RFP to select IT consulting company for global implementation
- Vendor Contract Management.
- BPM technology (PEGA Healthcare framework).
- Design Authority to drive global design and local implementation (Core Model
approach).
- Budget +10M€
- Team +20 people (internal/contractors)

e-Health Architect - Diabetes division
April 2012 - June 2016
Paris
Define and deploy eHealth architecture principles
Build a shared referential of IT components (global, local)
Develop a process framework
Support and help business in implementing the best solutions

Program Director - IS Transformation
June 2010 - March 2012
Paris Area, France
Worked on a full Business Service Management (BSM) approach associated
(and the definition of core service management processes) to a new Global
Infrastructure Services organization.
As the BSM Program Director, I have been in charge of setting up all the
foundation of IT Management processes and solutions to enable the activation
of the new infrastructure services.
Key Responsibilities:
- Leading the Business Service Management Program across Sanofi Aventis
(6M€/year)
- Business Plan development and budget control
- Process design
- Program planning and resources management

Project Director
June 2008 - May 2010
Paris Area, France
Role as
- Stream leader in the definition of a new Global Infrastructure Services
operating model
- Drive the selection of sanofi global IT Service Management solution, set-up
of the new platform of services, design and deployment of ITIL processes with
Global Process owners.

Key Responsibilities:
- Leading the Service Management Program across Sanofi Aventis (2000
users)
- Business Plan development and budget control
- Process design (5 core processes)
- Manage the project planning and resources (>2,5M€)

SANOFI AVENTIS – IT Industrial Affairs
Operations et Services Director Europe
Mai 2002 - June 2006 (5 years 6 months)
Paris Area, France
Management of infrastructure teams in charge of:
- Design of Operational data management and factory management
architecture (GPAO, LIMS, Weighting systems).
Focus on high availability and business recovey plans.
- Life Cycle management (Deploy, Replace, Upgrade) in plants and
Distribution Centers
- Operation & Services
Global monitoring, incident management, SLAs
- Budget +3M€
- Team +40 people (internal/contractors)

SANOFI AVENTIS – IT Corporate
Architecture Director
January 2001 – Mai 2002
Paris Area, France
Global methodology to identify most common solutions to become Enterprise
standards.
Publish initial version of catalog of standards (infrastructure, solutions)
Set up and activate network of BU Architects.
CIO support to validate major investments.
Études et formations
VEducation

ENSEIRB – Bordeaux
Master's degree in Engineering, Information Technology · (1987 - 1989)
D'autres freelances

Directeur de projet PRINCE II
Ces profils pourraient vous intéresser !
Chef de projet (Specialist en Management des Projets & Programmes - Skema Business School)
Disponible
Chef de projet / Directeur de projet / directeur de programme
Bientôt disponible
Consultant Digital Learning
Disponible
IT Program Manager
Conseil - Numérique Responsable et Gestion IT
Bientôt disponible
Directeur de projet AMO SIRH / ERP
Directeur informatique ITIL
PMO Transverse
Disponible
Directeur de projet et de programmes
Directeur de projet AGILE