Laurent - Business Analyst DATAWAREHOUSE
Ref : 190328T001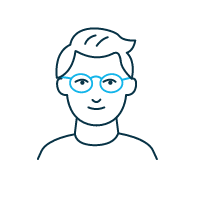 Compétences
Expériences professionnelles
WORK EXPERIENCE
2015 - 2017: Consultant, Economic and Social Council, Kinshasa - DRC
- Preparation of summary notes on the basis of ministerial, inter-ministerial reports, statistical studies and administrative documents
- Writing of technical notes
- Realization of the white paper of the framework and organic structures of the Administration of the Economic and Social Council of D.R.Congo (300 pages containing the organization chart, the directions, the functions and ranks of the various agents and executives associated with their respective tasks - 1000 posts planned)
- Preparation of the annual budget of the Council Administration.
- Writing of mission reports at the end of the sessions of the work carried out outside the R.D.C with the various other Partner Councils

2013 - 2015: Expert Adviser on Governance in a structure attached to the minister's office of the plan Ministry, Kinshasa - DRC
- Preparation of briefing notes based on departmental, interdepartmental reports, studies and administrative documents.
- Writing of technical notes
- Elaboration of the Annual Budget
- Drafting of mission reports following participation in the work with the IMF and the World Bank.

2009 - 2010: Adviser in charge of studies for the Vice-Prime Minister in charge of Reconstruction in Government of the Democratic Republic of Congo.
- Preparation of summary notes based on departmental /interdepartmental reports, studies, administrative documents.
- Writing of technical notes
- Working various reports of the various high-level working seminars focused on DRC's economic and financial analyzes of public finances, bringing together experts from the various ministerial offices of the Government, the MOI and the World Bank.

2005 - 2008: Management Controller, AJETI Interim and Hi-Tec International, two S.P.R.L business services (subcontracting work in printing, parcels transport) in Brussels
- Elaboration of the tools necessary for the follow-up (tables of the edges of the indicators)
- Realization of the provisional budgets
- Analysis of budget variances
- Financial Analysis & Reporting of Financial Statements
- Cash Management, Bookkeeping, Payroll Processing, Debt Collection

2003 - 2004: Accounting and Financial Employee, Public Social Action Center of the Municipality of Ixelles in Brussels
- Collection, processing and archiving of accounting information
- Keeping the general accounts, Keeping the accounts book
- Salary treatment
- Financial Analysis of Trends and Estimates on Financial Statements
- Preparation of financial reports on the social funds used.
Études et formations
PROFILE
- Excellent communicator with a good Team player
- Open minded with the Capability of working in an international/ multicultural environment
- In autonomy when necessary , I am methodical and assiduous in order to reach the objectives set
- Strong preparing and writing skills
- Strong capacity to give high level presentations.
- Skills in Business, Functional and Business Intelligence analysis tools
- Knowledges of agile methods

EDUCATION
08/2018 - 02/2019: Full time Training Course in Business Analyst at Technifutur (Competence Center for Enterprises) in Liège, Belgium
- Business and Functional Analysis
Requirements Engineering, BPMN (Bizagi),
UML (Visual Paradigm),
Drafting of specifications, Mockups (Balsamiq)
- Project management
MS - PROJECT, Introduction to Agile Methods (SCRUM), P.M.I, RUP, Loan, Six Sigma, COBI
- Data Management and Business Intelligence
Declarative and procedural SQL (Visual Studio), Introduction to Big Data, SQL Server Administration, Dimensional Modeling, ETL with SSIS, ETL with
Talend, Data Visualization, Reporting with Tableau, Reporting with Power BI,
Reporting with SSAS / SSRS, Reporting with Qlik Sense, Qlik View

2006 - 2007: Diploma of Specialized Studies in Management Sciences, option: Taxation
HCC - University of Liège

1996 - 2001: Master's degree in Commercial and Financial Sciences, option: FINANCE
ICHEC Brussels Management School

COMPUTER AND LINGUISTIC SKILLS
Microsoft Office: Word, Excel, Access, and PowerPoint
Fluent French
English: Good level

Financial expert and founding member of the O.N.G.D. "Action for disadvantaged women and children in the DRC" & Passionate about international finance
D'autres freelances

Consultant fonctionnel SQL
Ces profils pourraient vous intéresser !
Consultant Fonctionnel
Disponible
Testeur
Disponible
Lead Test fonctionnel MAXIMO SAP MM/PP/SD
Disponible
Développeur
Disponible
Consultant Microsoft Dynamics 365 Business Central
Disponible
Business Analyst- Consultant fonctionnel
Bientôt disponible
Business Analyst SQL
Disponible
Consultant fonctionnel HOROQUARTZ
Bientôt disponible
Consultant fonctionnel
Disponible
Consultant fonctionnel SALESFORCE
Disponible