Yuval - Consultant CLARIFY
Ref : 100706R001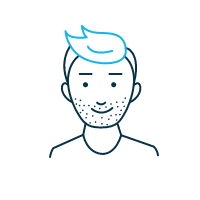 Compétences
Expériences professionnelles
Expérience professionnelle

2011 NextGen Consulting Microsoft Dynamics 365 Expert
Business analysis, High-level design, Technical level detailed design, client and server side customization and
implementation of Dynamics CRM 2011, 2013, 2015, CRM 2016 and 365 based solutions.
Sample Projects:
 Binary Options vendor, 80 active users: Sales & Retention & Service.
 ISP (Internet Provider) Pre-Sale, Sales, Service, Maintenance (contracts, site installations).
 Migration CRM 2011 to CRM 2016
 Migration customer data (accounts, contacts) from Salesforce to Dynamics using SSIS.

2004 - 2010 Amdocs AmdocsCRM Senior Expert / Consultant / Development
• Senior Amdocs CRM expert
Solution architect, CRM design & development lead, Developer for the Amdocs CRM and reference implementation using the Smart Client Technology. Deep familiarity with Call Center business processes

Customer facing and leadership roles
• 2008 – 2010 Amdocs Innovation Lab
• Led CRM scoping, design and development of highly integrated CRM-OMS-AMSS POC and demo scenarios.
• Led remote development tasks
• Led new innovative initiatives to improve OOB functionality
• Participated and successfully contributed to customer facing session with Reliance (India) and T-Mobile.
• Provided customer training, preparing customer to a Classic to Smart Client coexistence pilot.
o Training scope covered Smart Client back end and Smart Client front end.
o Additionally provided per customer request, further consultancy regarding database model, application deployment and development guidelines far beyond training scope.

• 2006 - 2007 – Telstra (Australia) (CRM)
• Led intensive scoping sessions with the customer
• Led high level design

• 2006 - T-Online (Germany) Classic to Thin Client migration project - CRM lead
• Led series of scoping sessions with customer, successfully gained customer trust.
• Led group of more than 50 developers in DVCI to perform code improvement, design and implementation of new modules.
• Led improved coding standards initiative.

• 2004 Telkom SA – Led Deployment and Roadmap analysis task, presented to senior customer management.
• Senior Amdocs CRM expert
CRM design & development lead, solution architect and developer for the Amdocs BSS and reference implementation using the Smart Client Technology
Deep familiarity with Call Center business processes

• Amdocs CRM 7.5 Smart Client Extensive Hands On
Worked on Amdocs CRM 7.5 smart client UI design, implementation and customization.
Implemented Amdocs CRM data modeling concepts; used the tools: ddcomp, DD Editor; extensive work with Schema Manager
Extensive familiarity with both functional and technical concepts in Clear Support/Support, Call Centre/Customer Interaction Manager. (Have worked on both smart client and web client)
Customized and developed add on features to the Amdocs CRM application; Designed and implemented Social Media functionality within CIM module.
Hands on experience with database technologies (SQL Server and Oracle).
Prepared and supervised technical and functional specifications (high level and detailed level design).
Developed, supervised, provided training having exceptional knowledge at Amdocs CRM smart client customization concepts, viz: CBO, Worker Beans, Load Bean, Save Bean, XBean and XVo
Deployed integrated CRM / OMS development environment (Java/J2EE )
Proficient at deploying the Amdocs application on WebLogic/WebSphere application server and integrated applications (APM).
Hands on with various stages of the project (Requirement gathering, requirement soliciting, functional analysis, technical analysis, designing, developing and testing).
Hands on using APM (Amdocs Process Manager): Design and implementation of APM engine driving Amdocs Smart Client CIM and OMS business processes.
Hands on UI screen design (usability), Client side (UI) and server side development.
CRM Integration with Process Automation (APM - Amdocs Process Manager process driven UI)
Seamless integration with peripheral applications (Billing, OMS, CTI)
integration with external analyzed social networks data for improving CSR work

• Development, Development Management, Consulting
o Developer for large J2EE JSP (Amdocs CRM web/thin client) project
o Managed design and customer facing scoping workshops (T-Online, Telstra),
o Solution Architect for successful large CRM / BSS projects
o Business Processes analysis (based on eTOM / ITIL standards)
o Consultancy, effort estimation
o Review and quality assurance for Amdocs CRM design and build process
o Created coding standards for Amdocs delivery group
o Technical code review,
o Performance improvement.
o Provide consultancy for all projects aspects: from business requirements to actual technical implementation.
o Provide intensive close work with large (thin client) development groups, bridging gaps between customer's IT, Business and off-shore development.

1999 – 2004 SUNGARD Business Integration ClarifyCRM Project Manager, Solution Lead
Project manager / solution architect / developer and full hands on implementation of a global ClarifyCRM project for geographically distributed enterprise with offices located in NY, London, Zurich, Singapore and Tel-Aviv.

SunGard's Ambit (formerly SunGard Business Integration) is a banking solution suite for retail, corporate and private banks and provides banking professionals with solutions for core banking, customer centricity, channel management, payments and treasury and liquidity management, as well as governance, risk & compliance. Ambit's suite of banking components and integrated solutions help to improve a bank's understanding and management of its customers, capital and staff operations, thereby improving long-term profitability, customer satisfaction and operational effectiveness and leading them down the path to become The Well Managed Bank.

• Project Management / Solution Architect:
o Managed complete project lifecycle
o Design implementation and management of global service assurance project.
o Managed complex technical implementations
o Customer facing requirement analysis and review
o Market solutions / technologies analysis,
o Performed Gap analysis / System design workshops,
o Design and implementation (UI, modeling, development) of new functionalities on top of OOB product (Clarify baseline):
o Developed, enhanced and implemented eSupport (customer web portal)
o Designed, developed and implemented new modules in ClearSupport (Classic Client):
SLA management,
Object Oriented Auto Destination Rules management UI.
o Integration of Web and rich client enviroments
o Plan of global communication infrastructure
o Provided consultancy and mentoring
o Integration with 3rd party tools (BI Reporting tools – Business Objects)
o An Amdocs reference project for Gartner Group (2003).
• Development:
o Developped global Enterprise Customer Support and Product development application on Clarify CRM Classic client
• Integration:
o Integrated Amdocs CRM based solution with leading 3rd party tools such as 'SAP Business Objects', providing diverse sophisticated reporting capabilities for the end users.

1996 – 1998 Applicom (Matrix)
Sales Manager for 'Remedy' (a trouble ticket product) – an OSS product (help desk and customer support).
o Performed a leading role in the development of large account client-specific sales strategies and the associated creation of client proposals.
o Won Presidents award for 1998 sales
o Established, maintained and extended business relationships with strategic partners and global software vendors. Responsibility for the concept and development of all sales and marketing activities, including planning and supervising sales.
o Developed and executed high-profile presentations to client and partner audiences.
Études et formations
Overview
Experienced CRM expert, project manager, solution architect , development lead, developers mentor and developer. Extensive hands on experience with all levels of project life-cycle. Proficient in customer / management facing activities.

Extensive familiarity with both technical aspects and business needs. A self-starting creative professional, holding a diverse technological, and business skills.

Professional Experience
• Project manager, solution architect, Design & Development lead, and Developer for the AmdocsCRM Smart Client Technology.
• Senior Expert (AmdocsCRM), CRM, Customer Interaction Management, Service Assurance, Trouble ticketing, Process Automation (APM). Hands-on experience with all client technologies (Smart, Thin, Classic).
• Senior Expert at Amdocs Delivery Group and Amdocs Product Group
o Solution Architect, Scoping Customer Requirements.
o Developers lead and development for various projects and proof of concept (POCs)
o Design Lead - Created and supervised development of technical and functional specs.
o Hand on various Amdocs CRM client technologies: Smart Client, Thin client , Classic Client
o Extensive experience in UI design, Data Modeling (Schema) and Server side, Client side coding.
o Exceptional knowledge at Amdocs CRM smart client customization concepts
o Deep knowledge of functional and technical concepts in Clear Support/Support, ClearQuality/Quality, Call Centre/Customer Interaction Manager.- CIM Context manager, CIM Multimedia (CTI integration) - worked on both smart client and web clients.
o Extensive experience in upgrading process (upgraded five Clarify / AmdocsCRM releases).
o Proficient at deploying on WebLogic / WebSphere application server.
o Strong at problem solving, innovation and analytical skills.
o Hands on experience with various stages of the project lifecycle (Requirement gathering, requirement soliciting, scoping, functional analysis, technical analysis, designing, developing, testing, deployment and OGS - on going support).

• Project management leadership of successful implementation of Global Service Assurance Project (AmdocsCRM / ClarifyCRM – ClearSupport and ClearQuality)
• Familiarity with other trouble ticket / service assurance products (Remedy)
• Familiarity with industry standards (eTom / ITIL)
• 16+ years of business experience

• Professional Baground
o Proficient project manager
o Customer / management facing activities
o Excellent presentation and documentaion skills
o Broad and deep IT knowledge, software design and development expertise.
o Experience of complete project lifecycle. Scope, requirements, design, build, test and roll out
o Expert – deep knowledge of related products (hands-on with SAP Business Objects BI tool )

• Business Background:
o Proficient in leading business / technological processes - new technologies self-learning.
o Marketing and Business Development of complex, high-end technologies
o Wide business / technological strategic vision.
o MBA (marketing & Organizational Behaviour)
D'autres freelances

Consultant CLARIFY
Ces profils pourraient vous intéresser !
CONSULTANT TRANSFORMATION S.I
Assistant à maîtrise d'ouvrage MS PROJECT
Chef de projet ARS REMEDY
Directeur de projet CMMI UML CMM AGILE
Assistant à maîtrise d'ouvrage FTTH
Quality/Test manager
Chef de projet CLARIFY
Consultant ARS REMEDY
Consultant AUTOCAD
Acheteur C