Salah - Business Analyst TEMENOS GLOBUS T24
Ref : 191216R002
Totalement mobile

Mandataire social de sa structure Freelance (SARL, SAS, EURL, etc)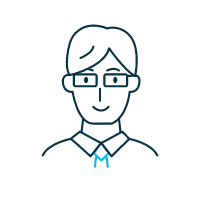 Compétences
Expériences professionnelles
Expérience professionnelle

Employment record relevant to the assignment: [Starting with present position, list in reverse order. Please provide dates, name of employing organization, titles of positions held, types of activities performed and location of the assignment, and contact information of previous clients and employing organization(s) who can be contacted for references. Past employment that is not relevant to the assignment does not need to be included.]

1) Ministry of higher education: IHEC SFAX (2012-present)


Period Employing organization and your title/position. Contact information for references Country Summary of activities performed relevant to the Assignment
[e.g., October 2012-present] Ministry of Higher education/IHEC Sfax

Teaching IT Governance and IT Audit
For references: Tel 74 879 084 Contact Name: Salah Ben Ahmed
Title/Position]: Professor & PHD and Director of IHEC SFAX Tunisia ⦁ Participation in establishment of IT governance and IT Audit syllabus according to ISACA® Model Curriculum for IS Audit and Control
⦁ Teaching IT audit and IT governance according to CISA Manuel for master's degree
⦁ supervision of end-of-study projects
⦁ jury member for end of studies projects
⦁ - Update of the training program to adapt to the most recent new CISA manual
⦁ - Review of the IT Governance chapter of the CISA 2019 manual with experts from around the world in order to adapt to the new context of the profession of the information system auditor
⦁ - Several training cycles for the CISA certification (2014-2016)



Period Employing organization and your title/position. Contact information for references Country Summary of activities performed relevant to the Assignment
October 2018-present] Audit Risk Consulting
Assistance and support for the implementation core banking system T24 of TEMENOS in BH BANK and Arab Tunisian Bank

For references: Tel 71 126 676
Contact Name: Moez Maamer
Title/Position]: Director BH BANK

For references: Tel 71 351 155
Contact Name: Abdeljalil Ben Mesbah
Title/Position]: Director Arab Tunisian Bank
Tunisia • Assistance with the necessary settings on the new core banking T24.
• Assistance in the conduct of tests and validation with the bank of the results of these tests.
• Assistance with the migration to the new accounting organization and the implementation of the control procedures
• Assistance with data migration to the new core banking system T24.
• Stabilization of migration and assistance in resolving post-migration discrepancies
October-December 2019 Audit Risk Consulting
Auditing data Migration to T24 for
Atlantic bank

For References :
Bechir Yakhlef, general manager of UniQ Soft Technology
Chemin des Paquerettes, 13
1260, Nyon, Suisse
Fix: +41 22 786 4444,
Natal: 41 79 427 2542
Email : ******** Niger and Ivory Cost • Revue of data migration strategy
• Revue of functional specifications
•Revue of system parameters
• Revue of accounting balances after data migration
• revue of reporting system and design of new one in compliance with the requirements of central bank
March 2018-March 2020 Employer : Audit Risk Consulting
Tunisian foreign Bank Tunisia and France Accounting assistance and regulatory reporting and clearance of outstanding accounts generated by T24
March 2012- June 2014 Employer : Audit Risk Consulting
Banque Tuniso-lybienne
Business consultant for support in implementing the core banking system T24
To obtain references:
Phone +216 71 901 350
email: ********;
Mr. Ahmed Remadi: Finance and Accounting Director Tunisia Assistance in implementing T24 Core banking including project management, testing, training and data migration phases
January 2013-March 2013 Employer : Audit Risk Consulting
North African Commercial Bank
********
functional consultant in banking risk management
To obtain references:
Phone 961-1-759077
email: ********;
Mr. Tarek Saido: Director of risk management Lebanon Project to implement a risk management system for a bank using T24. My mission is to write the functional specifications of the reports intended for the Banque du Liban in order to comply with the Basel II framework.
May 2012 Employer : Audit Risk Consulting
Cairo Amman Bank
********
functional consultant in accounting and banking performance measurement
To obtain references:
Phone: +971 4 3913100
Direct: +971 4 3913111
email: ********
Mounir Baccouche
Program Director - Global Insight Risk Services Jordan Participation in a project of implementing a reporting system for the bank's performance as well as regulatory reporting in accordance with Basel II standards.
The bank uses T24
June-September 2012 Employer : Audit Risk Consulting
BIAT
********
T24 consultant and auditor
To obtain references:
Phone +216 71 131 851
Email: ********
Mrs. Nejla Harrouch: Functional coordinator director Tunisia Review and post implementation audit after go-live on the new T24 global banking and stabilization and optimization of the parameters put in place during the precedent steps of the project
January 2009-September 2011 Employer : Audit Risk Consulting
BIAT
********
T24 consultant and auditor
To obtain references:
Phone +216 71 131 851
Email: ********
Mrs. Nejla Harrouch: Functional coordinator director Tunisia Analysis, training and system settings for the various areas of banking activity and with assistance with acceptance tests, resolution of incidents and definition of the data migration strategy to T24 global banking
June-December 2010 Employer : Audit Risk Consulting
ZITOUNA BANK / T24 consultant in Islamic finance products
********
To obtain references:
Tel Tel: +216 71 164 160
********
Mr. Majed Kolsi: Chief Information Officer Tunisia Analysis, training, and system settings for the various areas of banking activity and with assistance with acceptance tests, resolution of incidents and definition of the data migration strategy to T24 global banking
September 2008-December 2008 Employer: Targa Consult
ALSALAM BANK
functional consultant for Islamic finance products
********
To obtain references:
Phone +41 79 8151435
Email: ********
Nabil Majoul: project manager Algeria Analysis, training, and system settings for the various areas of banking activity and with assistance with acceptance tests, resolution of incidents and definition of the data migration strategy to T24 global banking


February 2008-March 2008 Employer: Deloitte Tunisia
General of Mauritanian Banks / Financial and Information System Auditor
To obtain references:
Phone +216 71 755 755
email: ********
Mr. Ahmed Mansour: Managing Director of RSM Tunisia (Ex Deloitte Tunisia) Mauritania Audit of the organization, information system and financial statements of the largest private bank in Mauritania on behalf of the central bank of Mauritania. This bank used DELTA as global banking
December 2007-January 2008 Employer: Deloitte Tunisia
BACIM BANK
Financial and Information System Auditor
To obtain references:
Phone +216 71 755 755
email: ********
Mr. Ahmed Mansour: Managing Director of RSM Tunisia (Ex Deloitte Tunisia) Mauritania Due diligence of BACIM BANK on a review of the organization, the information system and the performance for a US investment fund in the context of the takeover of this bank
September 2007-december 2007 Employer: Deloitte Tunisia
BACIM BANK
Financial and Information System Auditor
To obtain references:
Phone +216 71 755 755
email: ********
Mr. Ahmed Mansour: Managing Director of RSM Tunisia (Ex Deloitte Tunisia) Mauritania Outsourcing Internal audit of national industrial and mining company (SNIM). The processes audited are mainly IT, HR and supply chain.
August 2005-
August 2007 Employer: Bank of Tunisia and Emirates / deputy director
********
To obtain references:
Phone +216 71 112 000
email:
Mr. Lassaed Dellagi: Director of the Tunisia finance department Tunisia Accountant manager : Main tasks preparing financial statements and reports for the central bank and participation in the configuration of its new information system
June 2004-july 2005 Employer: Deloitte Tunisia
Audit Partner
To obtain references:
Phone +216 71 755 755
email: ********
Mr. Ahmed Mansour: Managing Director of RSM Tunisia (Ex Deloitte Tunisia) Tunisia Main tasks: quality review of audit files
September 1996-june 2000 Employer: Deloitte Tunisia
From audit junior to Audit Partner
To obtain references:
Phone +216 71 755 755
email: ********
Mr. Ahmed Mansour: Managing Director of RSM Tunisia (Ex Deloitte Tunisia) Tunisia Main tasks: financial audit, tax and management consulting including industry studies in agribusiness


7. Language skills: (Mark 1 to 5 for competence, 5 being the highest)

Language Reading Speaking Writing
French 5 5 5
English 4 4 4
Arabic 5 5 5



8. Membership of professional bodies:

Member of the Tunisian Order of Chartered Accountants since 2003
Member of the International Institute of Internal Audit (IIA) since 2006
Founding President of the local ISACA chapter in Tunisia


9. Other relevant skills (e.g. computer literacy, etc.):

- At Deloitte Tunisia, information technology is the strong point: since 1996 I have learned to work with the most sophisticated audit software in the world
- In my capacity as CISA and considering my experience of more than twelve years in the analysis, the design of the processes, the re-engineering of the processes, the tests, the configuration and the management of the databases within the framework of T24 or Infor M3 implementation projects in premise or in the cloud, I am familiar with a wide range of systems and IT environment


10. Publications:
Accountancy thesis: protection of minority shareholders, towards the implementation of a corporate governance system

Études et formations
Education:

Institution
[ from - to ] Qualifications Field studies
ISACA
2012-2013 CGEIT: certified in governance of enterprise IT IT Governance
ISACA
2010-2012 CISA: Certified information system auditor IT Audit
THE IIA
2008-2009 CIA: certified Internal auditor Internal audit
ISCAE
2002-2003 CPA: Certified public accountant Audit & tax & accounting
IHEC Carthage
1995-1996 Master's degree in financial audit Audit & tax & accounting
IHEC Carthage
1990-1994 Bachelor's in accounting Accounting

Certification:

I, the undersigned, certify that to the best of my knowledge, these data correctly describe my qualifications, my experience and me. I am available to undertake the assignment in case of an award. I understand that any misstatement or misrepresentation described herein may lead to my disqualification or dismissal and/or sanctions by the Bank.

D'autres freelances

Business Analyst TEMENOS GLOBUS T24
Ces profils pourraient vous intéresser !
Business Analyst SWIFT
AMOA TEMENOS GLOBUS T24
Consultant & Chef de projet en Valorisation VNI & Back Office Titres
Business Analyst MOA
Business Analyst TEMENOS GLOBUS T24
Business Analyst AGILE
Disponible
Assistant à maîtrise d'ouvrage TEMENOS GLOBUS T24
Business Analyst TEMENOS GLOBUS T24
Business Analyst OLYMPIC
Chef de projet TEMENOS GLOBUS T24