Christophe - Architecte ELASTICSEARCH
Ref : 160818L001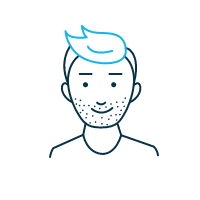 Compétences
Expériences professionnelles
Sept 2010 to now Entreprise Technology Solution Architect.
As Digital Enterprise Solution Architect, I lead stakeholder engagement and alignment
GE Power IT across business on a shared digital vision and strategy, as well as ensuring the right
Belfort, France selection and agile execution of rapid digital innovations across multiple organisations. I deliver Digital solutions that improve business operations while optimising technical environment. I also define tools, technology, and processes around digital transformation and operationalise technology enablers such as Predix, Big Data
Technology Stack(Elacticsearch) and DevOps concept.

Main achievements:
- Enterprise Search Solution incorporating Elasticsearch, Logstash, Kibana and Shield.
- Internally hosted and on AWS.

Storage Optimisation tools and processes for 7 figures savings.
- Implementing SOA/BPM integration Centre Of Excellence with Offshore Dev team,
- allowing DevOps model and cost savings.

Architecture design and Project management for Data Ingestion with newly acquired

- Alstom company.
Web hosting Service based on a SaaS model to offer Power & Water businesses a rapid deployment path for Joomla or WordPress CMS. Services include Agile Development services and Application support using ServiceNow as the ITIL tool.

- Time to implementation went from 9 month to 1 month and TCO divided by four.
Actively participated to the Jaimie Miller's GE Cloud initiative in 2013. First wave of In-house applications migration to AWS cloud infrastructure for GE Power.

Jul 2008 to Aug 2010 EMEA Compute Service Delivery Manager
GE Corporate As Service delivery manager, I ensure IT service levels are maintained and exceed GIS performance objectives. Report on process improvements, team performance and London, UK. agreed service levels while maintaining a positive relationship with customers, identifying customer needs and ensuring that the service provider is able to meet these needs with an appropriate catalogue of services.
I am also responsible for managing continual improvements to IT Service Management processes and IT services.

Oct 2004 to June 2008 EMEA Web COE Manager
GE Money UK Mission
Watford, UK.
As Web Solutions manager, my mission is to provide services from architecture consultancy to technical project management across EMEA GE Money businesses for Web and Data Hosting systems.
▪ Responsible for the technical strategy, the design and architectural development of Web Shared Services for GE Money UK. Covering wide technologies across IT
Infrastructure including security.

▪ Align GE Money EMEA Web Hosting vision and roadmap with corporate and business objectives and assist the Chief Architect to drive use of shared services aligned with the GE and GE Money Technology Stack.

▪ Work with Service Delivery and Operation teams to manage new service introductions, including definition and execution of pre-production of test protocols, hand over, training, and documentation based on ITIL standards.
Over 1 Million GBP cost saving in 12 months through Server Consolidation, Data Centre Virtualisation and Web Services Sharing.

Mar 2003 to Sep 2004 Marketing Program Manager
Microsoft Ltd Mission 1
Reading, UK. Product Knowledge & Evangelism. Be the internal and external spokesperson for

Microsoft Product & Technologies.
Responsibilities
Marketing Delivery. Implement, track, and measure marketing tactics and programs in conjunction with other marketing subsidiary roles, e.g. communication, segment, and vertical marketing managers.

Product Launches
▪ Microsoft Office SharePoint Portal Server 2003 Pre-Launch

▪ Microsoft Windows Small Business Server 2003 Launch

Mission 2
The UK Broad Customer Connection Security Mobilization was one part of Microsoft's Security Mobilization effort announced by Steve Ballmer on October 9 2003.

The overarching objectives of the Security Mobilization effort was:
▪ To demonstrate Microsoft's commitment to addressing the increasing security threats faced by customers
▪ To increase customer satisfaction and confidence in Microsoft.

Responsibilities
As the project manager, I was responsible for the general oversight of the UK Broad Customer Connection Program.

▪ Build our guidance – 40,000 Security Guidance Kit for IT Pro's distributed.

▪ Deliver our message – 700 proactive engagements with customers and partners and over 100 Technical Audience events organised.

17200 people were trained on Microsoft Security Guidance by June 2004 overachieving by 108 %( Second highest score behind the US at 109%).

Dec 2001 to Feb 2003 E-Business Consultant
Nematec Solutions Mission
Internet Solutions To define, advise and implement E-business solutions to support the business and
Slough, UK. marketing objectives.
Responsibilities
▪ Advise SME/SOHO managers on E-Business strategy,
▪ Define eBusiness technical solutions within a SME/SOHO environment.
▪ Provide analytical support spanning all related functions including strategy, operations alliance, customer experience, marketing and technology.
▪ Establish standards with development team on implementing user interface standards and system usability guidelines.
▪ Lead the deployment of advanced information technology solutions.

Projects
▪ E-Business strategy plan definition and interactive marketing implementation.
▪ E-Commerce websites with shopping basket and online secure payment.

Jul 1996 to Nov 2001 Marketing Web Services Manager - Europe
Nortel Networks Mission
Service Provider To integrate Internet and Multimedia programmes into our Marketing Strategy.
Maidenhead, UK.

Responsibilities
▪ Increase Web awareness among Service Provider group.
▪ Assist in development of strategic alliances and partner strategy.
▪ eBusiness Initiatives to support the business and marketing objectives.

Projects and Programmes
▪ Top 10 Nortel European Customers Personalised and secured portals (Vodafone, Bouygues Telecom, T-mobil…). Extended to top 100 due to success.
▪ European section management of ********.

▪ Development, launch and management of European Intranet web site.

▪ Development and implementation of online Marketing tools.
Études et formations
Education
2016 Dell Boomi AtomSphere Dev I & II Training

2015 Elasticsearch, Logstash & Kibana Dev and Operational trainings

2014 Elasticsearch training

2014 Cloud Computing – CNIT La Défense

2012 Agile Scrum Master

2012 Lean Six Sigma Greenbelt

2010 ITIL foundation Certificate v3

2006 Project Management foundation Certificate.

2006 ITIL foundation Certificate v2

2005 GE Manager Development course.

2004 Microsoft Security Guidance Certified.

2000 Leadership Management course (Run by QUO).

1998 Studied for the Advanced Certificate of Marketing (Chartered Institute of Marketing).

1991 Professional Certificate in Commercial Export (English-German).

1988 French professional Certificate of International Banking.

1986 French BTS Diploma (equivalent of HND) in Management Accounting.

1984 French Baccalauréat G2 (equivalent of "A" levels)

Languages
French Mother tongue
English Fluent (First Certificate of Cambridge - Dec 1994)
German Basic conversation
Spanish School knowledge
Czech Learning
D'autres freelances

Chef de projet BI
Ces profils pourraient vous intéresser !
Consultant/Chef de projet digital BI
Bientôt disponible
Chef de projet Finance
Disponible
Chef de projet TALEND DI
Chef de projet SAGE 100
Disponible
Directeur Project | Manager IT
Chef de projet DATA
Bientôt disponible
Chef de projet AGILE
Disponible
Chef de projet AGILE
Disponible
Chef de projet AGILE
Consultant BI